Mr. Shyam Sunder Mundra
Chairman & Managing Director
Mr. Shyam Sunder Mundra, is the Founder, he is post graduate in Electrical Engineering & Business Administration. Back in 1976, Mr. Mundra started a Proprietary firm in the name of M and B Switchgears. The company turned into a corporate Entity and was listed as a Public Limited Company in 2011.
Mr Mundra's core competency lies in the field of Electrical Engineering. Before starting his own venture, he worked in the State Electricity Board for 8 years. His vast experience has given the company an operational benefit in various aspects of the business like selection of product matrix, adaptation of sound manufacturing practices and keen focus on quality. He is actively involved in business and looks after, taxation and Strategies.
Mr. Vikalp Mundra, a graduate in Electrical Engineering & post graduate in Financial Management. He joined business in 1994. His designing skills enable company to venture into Power Transformer segment. His risk taking capabilities resulted favorably & company ventured into new geographies as well new customers.
His innovative nature & capability of succeeding against the current took business to new heights. He was instrumental in venturing into Solar Power business. He is actively involved in design, selection of technology and keenly supervise project management. He plays a major role in providing strategic directions and effective business planning. He is Vice-Chairman of Renewable committee of IEEMA.

Mr. Vikalp Mundra
Jt. Managing Director & Promoter

Mr. Anurag Mundra
Jt. Managing Director& Promoter
Mr. Anurag Mundra, is a commerce graduate and a Post Graduation Diploma in Business Administration. He is also a CFA Charter holder certified by the Institute of Chartered Financial Analysts of India. Mr Anurag Mundra joined in 1998. His expertise in financial analysis and corporate finance resulted in to good credit rating to the company which leads to achieve new financial milestones year by year.
His vigilant eyes on financial & material management leads to strict cost control with efficient inventory management. His good negotiating skills & immense knowledge of financial products is instrumental in getting favorable terms with banks & financial institutions.
Dr. Yamini Karmarkar is an Associate Professor at Institute of Management Studies, Devi Ahilya University, Indore. Prior to this she taught at International Institute of Professional Studies in the same university. She has a teaching experience of over 20 years. Her areas of interest are Security Analysis & Portfolio Management, Research Method. She has published several research papers in journals of National and International repute and is guiding PhD scholars in above areas. She is also involved in training and consultancy and has conducted training programs for Indore Police, School teachers, college teachers and private companies.
Her academic qualifications include Master of Management Science (MMS), Ph.D in International Finance, FDP from IIM Ahmedabad. She has done "Certified Program in Entrepreneurship Teaching" from Indian School of Business, Hyderabad.
She has also held several administrative positions at DAVV and has also served on various committees of Devi Ahilya University.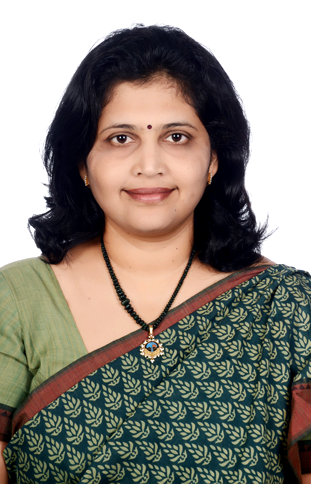 Mrs. Yamini Karmarkar
Independent Director

Mr. Prakash Dandekar
Independent Director
Mr. Prakash Dandekar is a product designer with an experience of 35+ years in product designing. He had worked with start-ups and handled all responsibilities as an entrepreneur. He is a hardware designer (analog and digital including FPGA), firmware designer (C and assembly) and software designer (VC, Basic and VB). He has completed his M.Tech., Electrical Engineering (Microwaves and Radar) from Indian Institute of Technology, Bombay and B.E., Electrical Engineering from Devi Ahilya Vishwavidyalaya, Indore (DAVV). Being trainer, teacher, thesis supervisor, project and program manager, he is a multitasking persona. He has specialization in Electronics R&D, Pilot Production and Automotive Vehicle Electrical Integration.
Mr. Babel is a B.Tech – Electrical from Indian Institute of Technology, BHU. He had worked with large organization like Hindalco, Hindustan Zinc, Larsen & Turbo and Usha Martin. He has over 41 years of experience in design, manufacturing, projects, international marketing and general management and 30 years of international experience in the energy and utility space.
He was a part of founding team of Secure Meters which pioneered electronic metering and management technology around the world. As a key member, Mr. Babel helped building a team and launch several high value added products/ systems. Helped Secure Meters limited to become leading organization in the market it operates in.
He has been active in various industry organizations. He was president of Indian Electrical and Electronics Manufacturing Association (IEEMA) till September, 2016. He is also a member of National Council of CII, the apex industry body in India.

Mr. Babu Babel
Advisor to the Board

Mr. Piyush Sinha
Independent Director
Mr. Piyush Kumar Sinha is a Ph. D. from Sardar Patel University and a professor of Marketing in IIM- Ahmedabad. He has an experience of more than 20-year in academics and industry. Prior to joining IIM-Ahmedabad, he was the Dean at Mudra Institute of Communications, Ahmedabad (MICA). He has also taught at the Indian Institute of Management, Bangalore and XIM, Bhubaneswar. He had researched on Retailing, Shopping, Point of Purchase Communication, Strategy Formulation for Media. He has several publications as papers, cases and books. His papers have been accepted for publication in international journals like the International Journal of Retail and Consumer Services, International Journal of Retail and Distribution; Vikalpa and Decision. A book on Managing Retailing with text and cases has been published by Oxford University Press. During his tenure in the corporate world he worked as a Marketing Manager for Gujarat Gas and Rasna.